Affiliate links used in this post.
Doing our bible study each day is number 1 on our list of priorities. I make sure we read our bible and have prayer each morning right after breakfast, before starting any chores or other schoolwork, because if we don't start our day out the right way, with God in our heart, then the rest of the day just goes downhill.
So how do I manage to do a bible study every day with 5 kids??? I have 2 resources I use for Bible Study: Grapevines Bible Studies and Write Through the Bible Series.
Grapevine Bible Studies has several different levels that fit all of my kids age range. We started with Creation and worked our way through Jacob, did a study on Joseph and are now at Jordan River & the Temple. We will continue the study all the way through the New Testament Series. I love these studies because the kids actually learn about the bible events, they can draw and color while listening to the stories and they also make a timeline of biblical events that shows all of the history they have learned as we go through each study.
Write Through the Bible Series is used as our character training and for bible memory verse selections. Grapevine Bible Study has memory verse selections as well, but we use the ones in WTTB because I like the encouragement and training they offer. Right now, we are working through the KJV Philippians 2 workbooks using the manuscript, cursive and Jr. versions. Until now I had to create my own traceable verses for my little ones, but FINALLY, I was so excited to find out that Intoxicated on Life created a JR traceable version!! I jumped at this book and my boys love it!
In the Junior version, they trace the bible verse as my older ones copy their verses, but the best part is, that in addition to this, they have included a section for practicing the alphabet. so while we are doing our bible study, the boys can practice tracing their letter for that week and then they have 2 pages each day that they either color, cut & paste, circle the letter, dot the letter, do mazes, and many other options that help them learn their letters. I have been really happy with this Jr. version and it goes great with the older kids versions.
There is also a family study of Philippians 2 called The Heart of Humility that we own, however, we haven't done the study yet. It looks like a great study, as all of Intoxicated on Life's products are, so when we do this study, I will post about it and let you know how we liked it.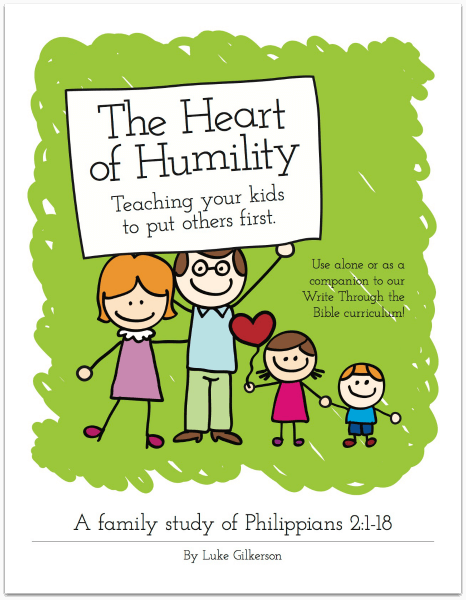 Here are some shots of our WTTB versions and later, I will post more in-depth about our Grapevine Studies because I will have a giveaway with that post! yeah!
WTTB manuscript and cursive versions goes through 135 days, with them copying the bible verse the first 3 days, then 1 day of looking up 2 or 3 vocabulary words such as "encouragement or comfort", then 1 day of dictating the bible verse. The next day combines the bibles verses they have learned up to that point. So essentially what they are doing is learning one verse of Philippians at a time and then every few days combining all of the verses so that at the end, they will have memorized the entire chapter 2 of Philippians. Because there are 3 days of copying the bible verse, we use these for our copywork as well. You can read here about how I Add Copywork into our school day.
The WTTB Junior version works the same way in that the child learns small chunks of the verses at a time and combines them as they go through the study, memorizing them. When they get to the end of the study, your child will have memorized the entire chapter of Philippians 2.
These are shots of the extra pages that come with each weeks learning.
To launch their new product, Intoxicated on Life is offering several bonuses with the purchase of Write through the Bible Junior. I have posted some details below from their website.
Write Through the Bible, Junior is a new interdisciplinary study you can use to teach your young child to Write while focusing on God's word. This curriculum, geared towards 4-6 year olds, is a full-year curriculum.
A Curriculum for Busy Moms
With Write Through the Bible, Junior,  you can complete several subjects at once. This curriculum will allow you to teach your child to write, discuss new vocabulary words, dig deep into the Word of God, and memorize a long passage of scripture together.
Not only that, but there is virtually no preparation! There aren't any involved crafts that take weird supplies. Everything you need for this curriculum you probably already have at home.
Features
This program was designed to incorporate several subjects in one. Below are a few things your child will learn as they work through this book:
Improve fine motor coordination
Learn letter sounds
Learn how to form letter
Memorize Philippians 2:1-18
Learn new vocabulary words
Study Philippians 2:1-18 and learn what it means to have a heart of humility.
In addition, this full-year program is very affordable costing just $17 for the digital download or $27 for the softcover book.
Options
Write Through the Bible, Junior is available in a number of options you can choose from.
Formats
Bible Translation
Fonts
Ball-and-Stick Manuscript
D'Nealian Manuscript
Cursive
Would you like to download a sample lesson before purchasing? Head over to Intoxicated on Life, where you can download the first lesson for free.
Purchase Now: Receive $49 in Bonuses!
During the launch of Write Through the Bible, Junior you can take advantage of these exciting offers! These are good for 10 days only, so don't delay. This special ends on March 27, 11:59 PM.
Worth $49, this is the perfect time to purchase your workbook. Be sure to fill out this form after purchasing, so you can receive your bonus offers.
• Coupon book with fantastic offers from popular homeschool publishers.
• 7 bonus books worth $49 to use with your child!
You'll receive all of these bonuses after purchasing the digital download for just $17 or the softcover book for only $27.
After purchasing your digital download or softcover book on Amazon, please fill out this short form where you will then be redirected to a page where you can download your bonus offers. 
I received one free copy of Write Through the Bible Jr in exchange for my honest review. I do not review products that we do not use in our homeschool or that I do not believe in. Your purchase through my affiliate links help to support this site and my family. Thank you for your continued support and may God bless you and yours!